A veteran Cape Cod, Massachusetts lobster diver suffered just minor injuries after he was swallowed by a whale while near the bottom of the ocean off the coast of Provincetown.
Michael Packard is now home from the hospital after what seems like a whale of tale. He said he was swallowed whole by a whale last Friday.
Packard says his vessel was positioned off Herring Cove Beach, surrounded by a fleet of fishing boats and he was plucking lobsters from the bottom of the ocean floor. He was approached by a whale and before he knew it, he was swallowed up.
"I thought, there's no way I'm going to get out of this with sheer brute," Packard told the Cape Cod Times. "It's either, he's going to let me go, or this is where I'm going to die, and I really thought, 'This is where I'm going to die.'"

"All I could think about was my sons, and my wife, my mom and I thought it was just over," Packard says.
Packard estimates he was trapped inside the mammal for approximately 30 to 40 seconds. He said he had scuba gear on at the time and was breathing while inside of the humpback whale.
"All of a sudden, I saw light, and white water everywhere, and all of a sudden I was thrown from his mouth," Packard says. "He was shaking his head, trying to eject me out of his mouth."

"The last thing I saw was his tail going down, and here I was laying on the surface," Packard says.
Packard says his boat mate, who the Cape Cod Times identified as Josiah Mayo, saw the ejection from the whale, but did not see the humpback whale swallow him.
"They saw the ejection, when the whale came up and threw me out," Packard says.
Packard says Mayo helped him out of the water, called to shore on the radio and headed in.
He was taken to an area hospital, but suffered few injuries, mainly soft tissue damage.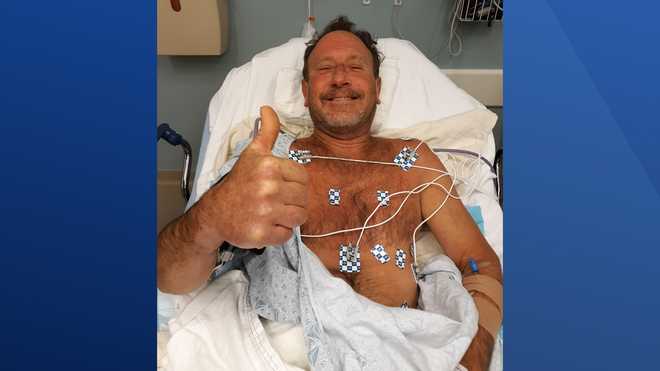 Jooke Robbins, director of humpback whale studies at the Center for Coastal Studies in Provincetown, said it appeared to be a mistake and accident on the part of the whale.
"It is not something I have heard happening before," Robbins said. "So many things would have had to happen to end up in the path of a feeding whale."